When we look back on 2020 there will be a few words that come to mind: 'unprecedented' (of course), 'pivot', 'work from home' and 'digital transformation'. For us, we will also think of it as the year 'CPQ'' started becoming a recognisable term within the Australian technology industry.
If you haven't heard of CPQ (Configure, Price and Quote) before, it's a big deal – 83% of global companies surveyed in 2015 were already using tools for CPQ and Gartner's Magic Quadrant for CPQ Application Suites listed a 15.5% growth rate in the market this year.
With unprecedented (we had to use it) change happening across the business world, there is no better time to get familiar with CPQ and its capabilities. So why is CPQ so important? Simplus' VP of Customer Solutions Gilles Muys has written a book to answer that very question. Titled 'The Definitive Quote-To-Cash Guide' the first chapter explores what CPQ is and how it can help you drive profitability and growth.
We've pulled out some of our top takeaways from one of the world's leading CPQ experts and how it can help your business.
CPQ connects all sources of data
Juggling multiple and disparate pricing data sources is one of the common pain points most companies face. And when it comes to pricing, no sales or finance person wants to be working across multiple tools. It's a human error high risk zone. With CPQ being channel-agnostic, it means you can "unify all sales channels under one platform – one source of truth. It also reduces the amount of pricing and configuration errors by leveraging all current, relevant data sources."
With many SaaS companies struggling to manage their subscription models, having a solution that "eliminates silos by allowing each person with the right permissions to access the sales information they need" will prevent delays in quoting and customer service.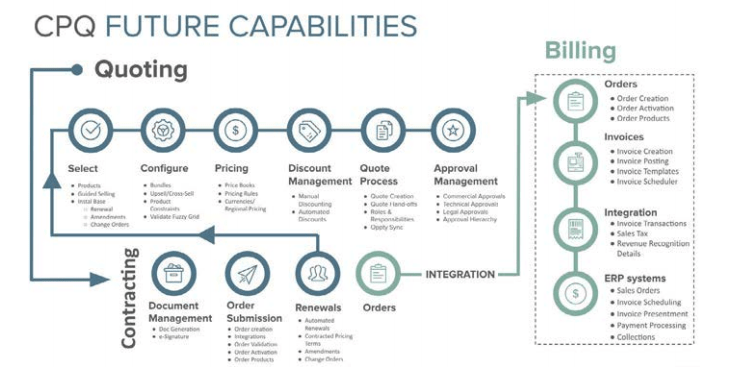 CPQ helps sales reps sell better and smarter
In today's fast business climate, sales professionals need a streamlined process to provide timely and accurate quotes. A mix of spreadsheets, institutional knowledge and emails is no longer cutting it. In fact, these processes slow down the sales process – leaving an opening for the competition to make their pitch.
So, how can CPQ help your sales teams sell better and smarter? According to Gilles there are many ways:
CPQ creates guided-selling strategies
CPQ generates more renewal opportunities by using previous pricing logic configured in CPQ
CPQ benefits the bottom line by presenting accurate information in a timely way, empowering reps to sell more to both new and repeat customers with easy-to access data.
CPQ automates manual tasks
Sales reps have always had a long list of tasks and responsibilities. From data-entry to paperwork, sales reps are finding themselves only spending one-third of their time actually selling. CPQ solutions "help streamline routine, time-consuming tasks involved in the pricing and quoting process." Which can mean one thing: more time selling.
CPQ is also redefining sales effectiveness with automated on-brand quote templates full of accurate, up-to-date, contextual information that impresses prospects. For sales organisations using CPQ now, it's creating a reliable and solid foundation to grow and scale. "CPQ automates the amendment creation process, making add-ons and upsells seamless."
Intrigued to learn more about CPQ?
Download our ebook CPQ: A CFO's New Best Friend which outlines what CPQ is and how it is helping break down silos and save businesses time and money.